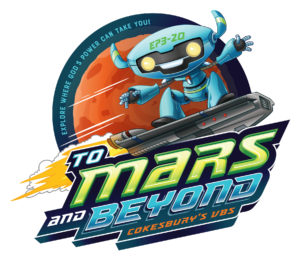 Vacation Bible School
Sunday, June 23* – Thursday, June 27
6:00 pm  – 8:00pm,  each evening
To Mars and Beyond is a fun-filled time of learning and experience. Children will watch dramas, sing songs, play games, enjoy snacks, make crafts, and do other activities as they hear Bible stories and learn about space. The event is free of charge, although an offering project will benefit Brethren Volunteer Service – going beyond, a Church of the Brethren program where people give their time and skills to help a world in need.
It's Vacation Bible School at York First Church of the Brethren! Children ages 4 through completed 5th grade are admitted free from Sunday, June 23 – Thursday, June 27.  Each evening begins at 6 PM and ends at 8 PM.
Join us!
AND
Parent Bonus Night!*
After the opening welcome on the first night, parents are invited to stay while the children are off enjoying their VBS activities.
The Parents Bonus Night will feature a psychologist who will facilitate an informal Q &A on the theme: "How to Survive Being a Parent!"
And when the Bonus Night is over, the children will return from their activities and join you for the closing.
Our psychologist facilitator is Dr. Jessylyn Koloras, who practices locally with Cognitive Health Solutions. She has a great deal of experience working with children of various ages who struggle to manage their family, academic and social lives. She serves as a support bridge, assisting in communication and cooperation among parents teachers, coaches, doctors, and other service providers. Her special areas of interest include co-parenting within blended families, anxiety disorders and marital issues.
Please bring your parenting questions — and your child or children — to our VBS, from 6 to 8 on Sunday, June 23, and stay for the opening night Parent Bonus!
Click here for the registration form!  Simply print it out, fill it in, and return the form to the church office.
For more information contact the Church office at 717-755-0307.